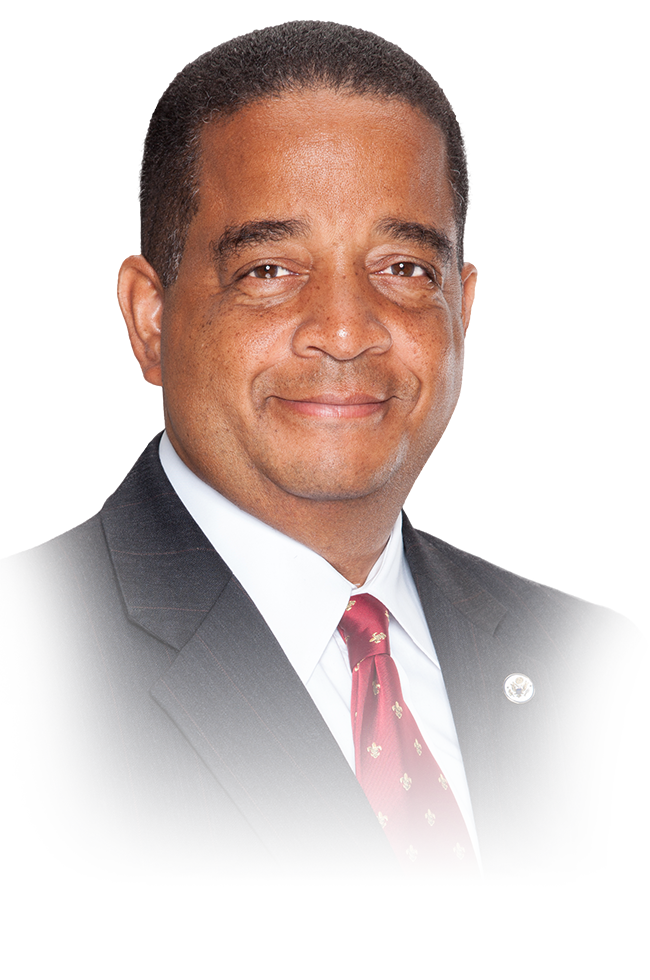 Eugene J. Green, Jr. has for many years worked in areas in which he has had an opportunity to build his own business, and to create employment and wealth generating opportunities for our citizens.
PERSONAL:
Eugene Green talks business and education to his children.  Eugene Green, lll graduated from St. Augustine High School in 2007, where he served as the President of the Chapter of the National Honors Society.  He completed his college education in 2012, and graduated from Tulane University with a Bachelor of Science Degree in Business Administration, with a Minor in Political Science.  His daughter, Melanie, graduated from Benjamin Franklin High School, and recently earned her Bachelor of Science Degree in Biology from Louisiana State University (LSU). She is a pre-medical school aspirant.  Green's youngest son, Jonathan, also a graduate of Benjamin Franklin High School, will this fall be studying at St. John's University in New York City, where he plans to pursue a degree in Finance.
Eugene J. Green, Jr.'s successes as a high school, college, and business graduate student have influenced his business success in New Orleans.  He also graduated from St. Augustine High School in 1976. He was the Salutatorian, a four-year member of both the Marching 100 and Concert Bands, President of the Student Body, Class Speaker, and recipient of the Purple Knight Award.  The Award is St. Aug's highest honor, awarded to the best all-around student, as voted by faculty and staff.
Eugene J. Green, Jr., earned a Bachelor of Arts Degree, after four years of intense study, in Economics from Harvard University in 1980.  He worked as an Assistant Manager and then Manager of the Catering Division of Harvard Student Agencies, still the largest student run corporation in the United States.  He also served as the elected President of the Harvard Black Students Association his Senior Year. He received the Frederick Douglas award for outstanding leadership, voted on by fellow students.  He is married to Jennifer F. Green, whom he met as a fellow student at Harvard. She grew up in Brooklyn, New York, and is the daughter of Jamaican immigrants.
BUSINESS:
For many years, Eugene Green and his son have authored the Green Business Report, a once monthly business development and job opportunities focused publication that is emailed to thousands of people.  The Report features links to both resources that can help entrepreneurs to do better business and to employment opportunities – especially those located in New Orleans. The Report has helped citizens to get jobs, and we have received favorable comments from people relative to the value of the business supportive links and articles
He also serves as a member of prominent Boards and Commissions that have a positive impact on the economic and social impact opportunities available to our citizens.  At present, he serves as the Chairman of the Board of the New Orleans Council On Aging (nocoa.org), where he has worked to enhance the Council's financial position to place it in a better position to provide meals and other services to elderly citizens in our community.
Eugene J. Green, Jr. also serves as the Vice Chairman of the Non-Flood Protection Asset Management Authority (nfpama.com) and as the Chairman of the Authority's Commercial Real Estate Committee.  Early in his Board tenure he worked to get Lakeshore Drive completely opened to vehicular traffic always. His recent work, especially with Real Estate, has also facilitated the start of new development activity along the lakefront, including the re-development of the former site of Bally's Casino to an entertainment venue that will include live music and entertainment sponsored by Tipitina's.
http://www.bestofneworleans.com/gambit/big-plans-abound-for-development-on-lake-pontchartrain/Content?oid=4151160
Other development activity includes the start of new businesses and expansion of existing businesses in the Lake Vista Community center, condominium construction and a new restaurant in the West End, and the soon to commence re-development of the North Peninsula in South Shore Harbor.  These projects, when completed, will have a tremendous impact on the level of economic activity along the lake, and will employ many citizens. Green was appointed to the NFPAMA by Congressman Cedric Richmond.
Green is the former Chairman of the Board of Directors of the Good Work Network (goodworknetwork.org).  He worked with founder and Executive Director Phyllis Cassidy to redevelop the long vacant, historic Franz Building.  The finely renovated building houses both the Good Work Network's administrative offices and businesses that serve the community.  The Good Work Network during his tenure also built the Roux Carre (rouxcarre.com), a collection of restaurants that gives food service entrepreneurs an opportunity to do business from store fronts.  During his tenure and as a leader of the Board, the Good Work Network provided assistance to hundreds of entrepreneurs and business owners to start and grow their business sales and profits. He remains a Board member, recently appointed to a three-year extended term.
Green serves the City of New Orleans in other capacities.  He is a member of the New Orleans City Planning Commission, appointed by former Mayor Mitch Landrieu.  He is motivated to help businesses and investors to understand and to use the processes that lead to enhanced investment and economic activity.  Nominated by former City Councilman James, Gray, he is a member of the Industrial Development Board of the City of New Orleans (idbcno.com).
Eugene Green, Jr. is Chairman of the Board of the ACTION Community Network, which is supported by the United Methodist Church. The agency was founded in 2017 to provide services to the Seventh Ward community of New Orleans, one that has been targeted by the United Methodist Church to enhance the level of community services available to its citizens.  The Network recently began work to restore the former Martinez School site on North Roman Street into a center that will provide educational services to area residents and the public. Among these educational services will be the creation of a business center that will provide training and resources to especially area residents.
Eugene J. Green, Jr. has contributed greatly to the New Orleans community as the Founder and President of Nationwide Real Estate Corporation (nationwiderealestatecorp.com), a nearly thirty year old property management and real estate brokerage firm.  The company's agents have created scores of new homeowners in the City. In addition, the firm has facilitated the renovation and rebuilding, and manages, tens of millions of dollars of metropolitan real estate. Nationwide played a very important role in assisting many citizens' return to New Orleans following Hurricane Katrina.  
Nationwide Real Estate Corporation engages plumbers, electricians, pest control specialists, air conditioning and heating specialists, general contractors and laborers in its management work.  Nationwide has paid millions of dollars over the years to these firms and has helped them. has enhanced the growth of a few businesses that provide various maintenance services.
www.nationwiderealestatecorp.com
Green served the citizens of our City as the Director of the Office of Small and Emerging Businesses under former Mayor Marc H. Morial.  He also served as the Executive Assistant to Mayor Morial for Economic Development. During his six years in leadership roles, Green helped many small businesses to get access to resources and contracts through the implementation of the City's Open Access Plan.  During his leadership tenure, major, transformative projects were developed that involved support from the Division of Economic Development. Successful development projects included the American Can Building, the Third Phase of the Ernest N. Morial Convention Center, and the start of the revitalization of Oretha Castle Haley Boulevard.   
Additional developments during Green's tenure included the Jazzland Theme Park / Six Flags, which, prior to Hurricane Katrina, employed hundreds of people. Economic activity on Magazine Street and Freret Street was enhanced during Green's leadership of the Division of Economic Development.  The Industrial Development Board was re-organized during his tenure as the head of Economic Development.
Eugene J. Green, Jr. left the City in 2000 to take on running a challenged agency – as President of the New Orleans Business and Industrial District (NOBID).  During his six years as the President of the agency, true economic development took place. When businesses needed assistance with locations and expansion opportunities, he applied his motivation and public and private sector business experience to help them.  He also marketed the agency through various local and national media platforms, including hosting the Eye On Enterprise television show which featured Park businesses on the cable access channel.
During his tenure as the President of the New Orleans Regional Business Park, the Park became the home to new businesses, and, per the Times Picayune, enjoyed it best years in 50 years. During his tenure he was recognized by New Orleans CityBusiness as Le Grand Executif – (January 5, 2005).
During his tenure at the agency new businesses moved into the park including Copart, Crescent Crown Distributing, Buzzi Unicem USA, Meyers Warehouse, Dufour Petroleum, Home Automation, Virtual Office Suites, and others.  Green was successful in getting the Louisiana State Legislature to change the name of the agency to the New Orleans Regional Business Park. Following Hurricane Katrina he worked to secure Textron Land and Marine Systems as a tenant in the Park, providing operations relief and support following the flood of the company's eastern New Orleans plant.
Folger Coffee Company, a division of Proctor and Gamble, operates the world's busiest coffee roasting facility on Old Gentilly Road in the New Orleans Regional Business Park.  Constant power outages in eastern New Orleans posed a serious threat to Folger's business operations. In response, the Park, in partnership with the City of New Orleans, the State of Louisiana, and Folger, with support from Metrovision, built a $ 2.1 million 115 HVA electrical plant to provide Folger Coffee Company with a reliable source of electrical power.  
The management of Proctor and Gamble viewed the investment favorably. Talk of possible relocation ended.  This investment by the State, the City, and Folger facilitated the company's investment of hundreds of millions of dollars in the expansion of its Old Gentilly Road plant.  In addition, Folger renovated and expanded to facilities on Jourdan Road.
He also serves as the Chairman of the Board of Directors of the Alpha Plaza Foundation of the Sigma Lambda Chapter of Alpha Phi Alpha Fraternity, Inc.  As Chairman, he oversees the operations and helps to raise funds for the Chapter's headquarters at 9701 Lake Forest Boulevard in eastern New Orleans. He was, 25 years ago, the real estate agent who helped the Chapter to acquire the property from the Resolution Trust Corporation.  He also served on the Fraternity's National Housing Search Committee. In 2016 Green received the Chapter's prestigious Esprit de Fraternite Award, voted by Chapter members. Green's son, Eugene Green, lll, is a member of Alpha Phi Alpha Fraternity, Inc., following in his father's footsteps.
Eugene J. Green, Jr. enjoys raising his family and living in New Orleans.   His commitment to the City includes membership on the Executive Board of the Boy Scouts of America, and present service on the Board of Gulf Coast Social Services.  He serves at present as the Chairman of the Board of Directors of the New Orleans Council On Aging. (nocoa.org). He has served on the Orleans Parish School Board, and on numerous other Boards of Directors including the Newcorp Business Assistance Center, the Lakeland Medical Center, The New Orleans Multi Cultural Tourism Network, the Volunteers of America of Greater New Orleans, and others.  
He also shares information with citizens in additional capacities, including as a contributing writer for the New Orleans Tribune.
He is especially proud that his work – public and private sector – have made a positive impact on the City and on so many of its citizens.  His work has resulted in hundreds of millions of new investments and expansions by business enterprises. His private sector company, Nationwide Real Estate Corporation, has generated tens of millions of dollars of economic activity and continues to do contribute greatly to economic activity in our City and region.  He has seen great progress and has been a participant in making positive enhancements to our City's social and economic landscape. He is pleased that the City is an increasingly more attractive place to live and to do business.
Eugene J. Green, Jr. has lived a life of accepting challenges, and has employed his business education and economic development motivation in a way that has led to some enhancements of the quality of life for so many citizens.